Get listed on The Retweet Train follow lists for 1 full year $5 subscription. Act Now! Limited time. More details at FIVERR.com


AHA LIVE with host M LeMont


Some of the best interviews occur when the person doesn't know they're being interviewed. It's sort of like the old TV show Smile You're On Candid Camera. I caught AHA Author Rochelle Campbell totally off guard in this 2 min 2 sec live conversation on Twitter. You can also catch her first interview here.

Me: I like your picture. You're getting too sexy for your own good.)))


Rochelle: Thanks! So glad the late hours are not readily seen on my face. This is the promo pic for my new book.


Here ar the deets! Hope to 'hear' u on 3/11! Also the release date for my new #nonfiction #finance bk. pic.twitter.com/IVQV2anZAX

You are on a roll. You inspire me to stay up and write all night! DOLLARS and Sense. Catchy title, it has mass appeal.


Rochelle: MAKING DOLLARS & SENSE WORK: A Financial Primer for Single Moms & Dads Plus College Kids Too! pic.twitter.com/zSJLOsgi46 I just wanted to get to heart of the matter. So many of us don't have any financial education under our belts this bk helps!
Me: I would assume it would apply to men as well who pay child support.
Rochelle: Yes, Single Dads are definitely spoken 2 in this book! This bk is not gender specific in fact it's not just for parents

What is a must read chapter in the book?

Rochelle: The one about Payday Loan Hell. A bank rep told me that banks can't help ppl in that sit. This bk gives u a ltr to stop them.
Interesting. I'll make sure to focus on that chapter. Where did you get the inspiration to write a non-fiction. It's long ways from Fury From Hell?
Rochelle: I was trying 2 decide what 2 write next. A friend suggested I pull back from the confusion & write what I was passionate about.

That makes sense. There are plenty of things that our eyes have seen and our ears have heard that we can write about.


Rochelle: Yes, it reminds me of Warren Buffet. When his body has a twitch, or a tingle he knows it means buy or sell b/c he's seen something.

One last question. Hurry my 2 min 2 sec is almost up. People will start screaming bloody murder and unfollow me. Hell, I'm close to hitting 100k followers, I can't afford to lose anyone.

Rochelle: You're crazy, you know that?

Me: Yea, I know. that's why the Retweet Train is so popular.
Anyways, heeeer's my last question. Was it easier writing a non-ficion than a fiction book?

Rochelle: Nonfiction is easy for me as I went to school for journalism. Research, compiling data, etc is fun to me. :-) Fiction? Work!
I would be remiss not to mention that you 're a beta tester for my new book How To Get 100,000 Twitter Followers, and you're living proof how well the strategies and shortcuts work.


Rochelle: I was stuck at 5,000-6,000 followers then I saw some amazing results from other beta testers and said hey I need to see what's going on? Now, I have 10,000 followers in less than four weeks. The strategies are easy to do and the tricky part, they are easy not to do. I can't wait read your book.

Yes, I remember those days when you were stubborn as a mule and wouldn't follow my advice. (LMAO!:-) But now you're own track for 100,000 followers. You can follow Rochelle on Twitter at @NotebkBlogairy, and she always follows back.

Well, my dear, the clock on the wall says that's all. I hope you don't mind if I add this conversation as an AHA Interview.
Rochelle: Sneaky! You scooped WLVS! :-) LOL. I'm sure it will be okay.
Oops! I forgot to say, Smile You're on AHA Live! Thanks, you're a sweetheart. I can't wait to get my hands your new book. One idea can change a person's life.

Rochelle's Making Dollars & Sense Work Available Now

I feel a Best Seller in the making.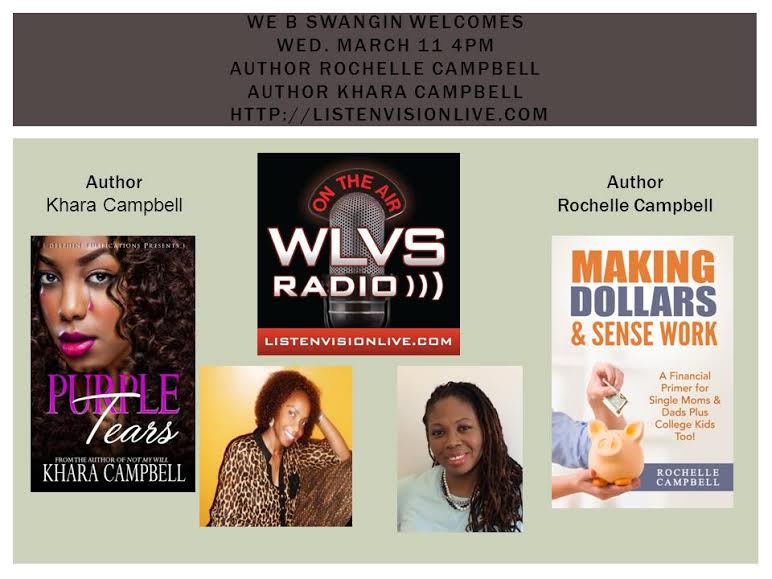 Available Now Available Now

Don't have a kindle? Download free app and start reading an ebook in 1 minute.

Get listed on The Retweet Train follow lists for 1 full year $5 subscription. Act Now! Limited time. More details at FIVERR.com